With Team GB having absolutely smashed their cycling events at Rio this year, it's hard not to admire the athletes level of expertise. You may have noticed that our British cyclists boasted new apparel along with some rather snazzy looking blacked out bikes throughout the Games. But whilst you were watching our athletes whizzing around the Velodrome, have you ever wondered where their 'weapon of choice' originated and how it came to be at the seat of our gold-medal winners?
This simple infographic will let you know top facts about each bike you've seen our home team use this year: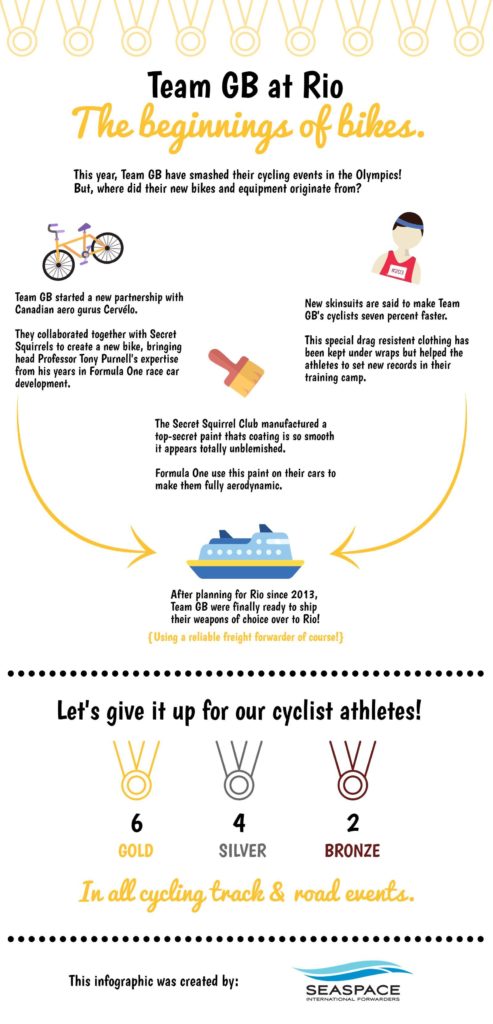 As you can see, and imagine, a huge amount of  planning and attention to small detail goes into manufacturing an Olympic bike. It all comes down to careful design, arrangements and, of course, a reliable freight expert to get the gear safely to Rio. It's easy to overlook just how much preparation goes into the Olympics every four years, aside from the training of the athletes. What goes on behind the scenes really is astounding!
Team GB recently ended their five-year partnership with Pinarello in 2015, who supplied the bicycles for the London 2012 Olympics. The bikes you saw this year on the Velodrome track were manufactured in collaboration with the Secret Squirrels Club and Canadian producer Cervélo. The bikes our athletes rode to gold in Rio this year were designed specifically to be extremely light and aerodynamic, with a smooth "top-secret" paint used that has been known to make Formula One cars faster. If you were to try, rumour has it you could lift one of those bikes with a single finger.
The new attire that Team GB's athletes wore in the Rio Olympics 2016 was also said to set new records during training. From the skinsuits right down to aerodynamic socks, every little detail counts to buy them some extra time. Not to mention, these athletes trained incredibly hard for four years to get to the games and bring home so many medals!
All freight details from the Rio Olympics can be found on their transparency page, here. If you're looking for a freight forwarder to get your bikes from A to B in light of the Rio Olympic rush, get in touch with us.