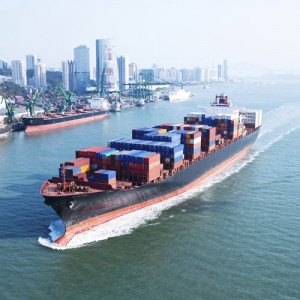 At Seaspace International, our team facilitates and manages sea freight shipments worldwide with a strong international network, the latest technology and specialist staff.
Our port import operations team, based at Felixstowe, links with all major UK and overseas ports whilst export operations, located at our HQ near London Gatwick and Heathrow, has access to a wide range of carriers and related services.
What's more, our unique web-based system, SpaceTrax, allows you to track and trace your shipments for real time updates; you'll always be kept in the loop and out of the dark.
At Seaspace International, our sea freight shipping services include:
Imports and exports
We have dedicated teams for both imports and exports via sea freight shipping and have years of experience importing and exporting a range of goods from a variety of industries; from beauty to aerospace. No task is too big for our team and we'll work closely with you to ensure a smooth service from the word go.
With close relationships with key shipping locations around the world, our local knowledge and effective management is unrivalled, giving you peace of mind that your goods are in safe hands.
LCL and FCL shipments
Our teams can cater for both LCL (less than container load) and FCL (full container load) shipments so there's no need to worry about the size of your import or export. If you're looking to move an LCL shipment, we'll consolidate with other freight to help minimise costs. If you are after an FCL shipment, we can get these to your destination that bit quicker.
Conventional and out-of-gauge loads
Whether your freight fits a conventional sea container or requires out-of-gauge solutions, Seaspace International can help. We have a range of options available and will always take cost and deadlines into consideration; nothing is too out of the ordinary for us.
Our experience working with a variety of industries and shipments means we are perfectly placed to find the right solution for getting your goods from A to B. All of our sea freight services are completely tailored to your needs, so we will always find the best and most cost effective solution for your business.
Import customs clearance
Don't let customs clearance slow you down; our import team have extensive experience at dealing with sea freight imports and can help get your goods over the border quickly and with minimal fuss.
No matter where your goods are coming from or going to, we have an unrivalled knowledge on the documentation and paperwork you need in order to get your goods through customs.
Even if you're shipping hazardous or restricted goods that need special customs clearance, we can help! Our expert team has had years of experience working with all kinds of goods.
NES export declarations
Seaspace International works closely with the National Export System (NES) to help get sea freight shipments declared in the right, official way. We'll take the pressure off you and ensure all official documentation is in place in adequate time.
Import licensing applications
Shipping your goods by sea involves more than just loading a container or two; let Seaspace ensure you have all the proper documentation and official applications in place, including an import license that will allow you to import goods by sea freight.
With the documentation required being different across the globe, it can be daunting to undertake this task yourself. That's where our knowledgeable team can help – with a vast amount of experience shipping goods all over the world, we can get your documentation complete in no time at all.
Hazardous cargo shipments
Are you looking to ship hazardous cargo by sea? Seaspace International can help. We'll work with the relevant authorities and import/export operations teams to ensure your shipment runs smoothly no matter the contents.
Customs warehousing
We can provide Customs warehousing from our HQ near London Gatwick and Heathrow. All of our storage and warehouse facilities are professionally managed, highly secure and are equipped with the latest technology and loading/unloading machinery; there's no safer place for your freight than with us.
With three large warehouses, we have the ability to hold a vast amount of stock, so it doesn't matter how large or small your shipment is, we can store your goods safely and securely.
Get in touch
Want to find out more about our sea freight services? Or would like a quote for a shipment of goods? Get in touch with our team, we'd love to hear from you. Simply call us on 01293 554620 or email info@seaspace-int.com.