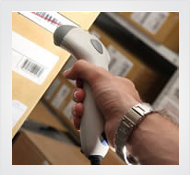 The Issue
With a growing list of clients utilizing Seaspace's pick and pack fulfillment facility the need for an accurate stock control, order fulfillment and data analysis system also grew. We found that "off the shelf" solutions were inadequate in providing the high level of service back-up we wanted to achieve.
Most software packages were inflexible in accommodating the varying requirements of differing clients and commodities. Others were too basic and would quickly become out-dated, whilst the remainder were so complex that they took a team of I.T. experts to understand and operate them.
The Solution
Seaspace took the initiative in commissioning our own in-house stock control and reporting system. After an initial selection process an independent programming company was selected and invited to spend time working in our warehouse to better understand how we work and what we required. Then, over a number of weeks and in consultation with our clients, we worked closely with the programme writers to develop a comprehensive, user friendly and adaptable system. With the addition of a bar coding system we were able to fully integrate with the stock control system providing for maximum accuracy of stock management.
The Result
Seaspace has a unique stock control system that can interface with clients' own systems, be adapted to suit precise individual requirements and, after a relatively short training period, be used by almost anyone. Some clients have even brought the system in-house for their own use. However, not being one's to sit back on our laurels, we regularly review the performance and features of the system and upgrade it as necessary.
Furthermore, this success has spurred us to widen our data analysis and reporting base and all clients now have access to a range of freight analysis reports, individually tailored. We've even recently developed our own consignment track and trace system – SpaceTrax.