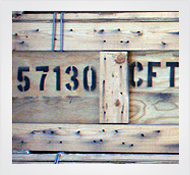 The Issue
Our clients, an internationally renowned aerospace engineering company, faced a dilemma. Their production plants require a regular & reliable provision of large scale metal forgings. However, production demands can sometimes peak at very short notice and their US suppliers struggled to accommodate this.
Although the suppliers were able to build-up and hold stock in readiness, it then had to be moved via air freight to meet UK production surges. This then had obvious cost implications.
The Seaspace Solution
By taking full advantage of our security controlled warehouse and goods yard the solution we put forward was simple and effective; Consignment Stocking.
Seaspace consolidate and manage the ocean import of a number of forgings from a variety of our clients' suppliers, on 40ft flat-rack containers, into our Gatwick facility. Here they are securely stored and logged into our electronic stock management system. When our client then has an immediate requirement, stock is quickly identified, located and trucked to the relevant UK plant. Meanwhile, stock levels are constantly monitored and reported, so that they can be replenished and the supply line seamlessly maintained. Meanwhile, suppliers and the client satisfy their demands, within budget.
Client Feedback
The scheme has been so successful that our client has encouraged further suppliers to participate.
Seaspace are now assessing whether this scheme can be suitable and adapted to benefit other clients' businesses.