Whether you have a question about Seaspace, need assistance with any area of Freight Forwarding or in town and want to check out the office, we would love to hear from you. Get in touch using our contact details below or simply click the "contact us" button on the right of the page to fill in a quick form.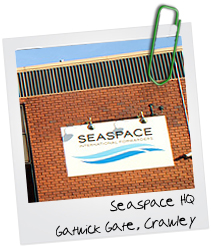 Seaspace International (Head Office)
Seaspace House
Unit B1 Gatwick Gate
Old Brighton Road, Lowfield Heath
Crawley, West Sussex
RH11 0PR
phone: 01293 554620
fax: 01293 544501
email: info@seaspace-int.com
Seaspace International Forwarders Ltd is a limited liability company registered in England.
Registered number 2282890
Registered office address:
c/o Richard Place Palmer,
52a Carfax,
Horsham.
West Sussex
RH12 1EQ
VAT number GB 492396802
For a full list of our Standard Trading Conditions click here